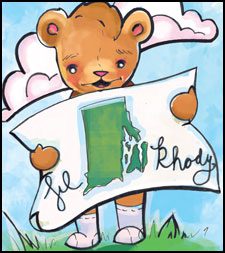 Providence, RI September 2, 2013 – Project Undercover, a Rhode Island based non-profit, announced today the release of a coloring book. Illustrated by RISD graduate Ashley MacLure and Warwick author Kathleen Hollenbeck, the 24-page book addresses childhood poverty.
"We wanted a way to reach younger children and their parents," says Board President Richard Fleischer. "The book presents serious issues in an enlightened, thoughtful and age appropriate manner."
With 15,000 printed, the organization is planning to distribute the free coloring books throughout the state. It is also available for free download on projectundercover.org. The coloring book was developed with the direction of Board Secretary Carina Cournoyer and made possible through funding from Hasbro Inc. and the Ocean State Charities Trust.
Project Undercover is a 501(c) that provides clean, new underwear, socks and diapers to over 45,000 children living in poverty in Rhode Island. The organization currently partners with 22 local and statewide organizations and community action programs to distribute goods. Since the project was conceived more than 20 years ago, it has distributed more than 2 million items to Rhode Island's most needy children.
For more information about the coloring book project and Project Undercover, please contact Executive Director Janet Zwolinski at 401-871-5866.
Click here to download your copy: Project Undercover Coloring Book 2013