Updated 6/17/16: Senators Al Franken (MN) and Bob Casey (PA) have introduced a Senate companion to the Hygiene Assistance for Families of Infants and Toddlers Act, S. 3070.
Diaper need is the lack of a sufficient supply of diapers to keep an infant or toddler clean, dry and healthy, a problem that affects 1 in 3 families*. This unmet need can cause discomfort and health issues for children, and increased stress and financial struggle for parents. In fact, one Yale School of Medicine Study showed that diaper need is a stronger predictor of depression and anxiety among mothers than food insecurity*.
Unfortunately, while many working families struggle just to provide these basics for their children, programs like WIC and SNAP do not cover the cost of diapers. In fact, there is no federal assistance program that includes diapers. The Hygiene Assistance for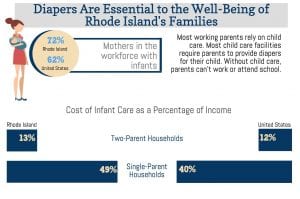 Families of Infants and Toddlers Act (HR 4055) will address this gap in a family's wellbeing. Introduced last year by Rep. Keith Ellison (D-MN), the bill now has an impressive 50 co-sponsors in the US House from around the country, including our own Rep. Langevin.
This support is crucial, because Rhode Island families need help: 72% of Rhode Island mothers with infants are in the workforce* and the cost of infant care as a percentage of income can run as high as 49% for single-parent households*.
We need to let our representatives in congress know how important the Hygiene Assistance Act is for Rhode Island's working families. Please, contact your representative and tell them that you support HR 4055!
Learn more about the Hygiene Assistance for Families of Infants and Toddlers Act and the National Diaper Bank Network's nationwide advocacy for this important bill.
Read Congressman Langevin's letter of support for HR 4055.
*According to data from the National Diaper Bank Network.